About Amato Chiropractic Wellness Center
Our Philosophy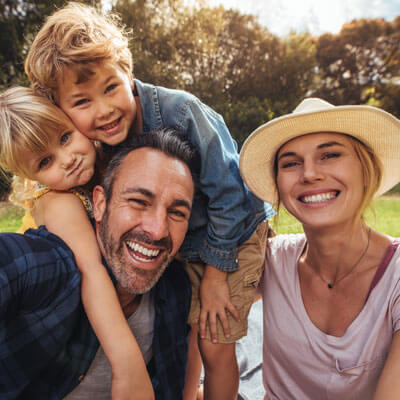 At Amato Chiropractic Wellness Center, we believe the body has an innate healing ability. When interference is removed from the nervous system, that healing ability can come forth to allow your body to heal and regulate itself as it was designed to do.
Chiropractic helps remove this interference by restoring proper balance and alignment to the joints of the spine and extremities. Our care is based on this neuromusculoskeletal premise, with a focus on providing natural health for patients of all ages.
Our History
Husband-and-wife team Drs. David and Lesa Amato received their chiropractic education at Palmer College of Chiropractic, graduating in 1995. In 1996, they opened our practice. For Dr. David, this was a natural extension of his family's commitment to chiropractic care: his father, Dr. Charles Amato, graduated from Palmer in 1946 and practiced in Ohio for 40 years, and his brothers are also chiropractors.
Dr. David and Dr. Lesa chose the Kingsland community because they had been working in Augusta and were looking for a friendly, family community near the coast. A patient suggested Camden County, and they've been here ever since. We also serve many patients from the surrounding St. Marys, Woodbine communities.
MEET THE DOCTORS

Family Care
We are passionate about providing care and outstanding results to patients, from newborns through seniors. Our practice is a true family practice—our family caring for your family—and this friendly, family-oriented approach attracts our patients.
With our comprehensive approach to care, which is customized to each patient's specific situation, we can often help avoid surgery.
It's inspiring to us when patients commit to their long-term health and achieve results they didn't even know were possible. Our goal is to help every patient optimize their health, so they can get the most out of life, at every age.
Integrated Care
In addition to chiropractic adjustments, we provide a range of services to help you heal and achieve wellness, including spinal decompression, massage therapy, and Pilates based therapeutic exercise.
Schedule Today
Contact us today to book your appointment.
---
About Amato Chiropractic Wellness Center | (912) 882-8888