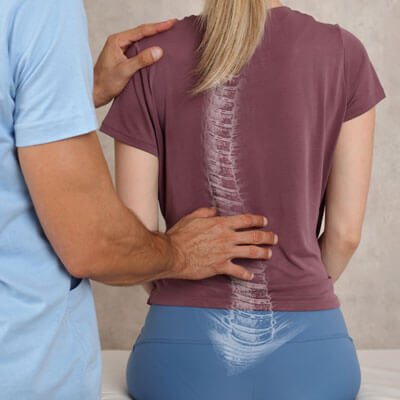 Spinal Decompression
at Amato Chiropractic Wellness Center
Our Therapy is a comprehensive non-surgical program. Using the technique combined with other adjunctive treatments have proven effectiveness in back and neck care. It is this multi-faceted approach that makes the overall treatment so effective.
The problems common to many back conditions are damaged discs and poor spinal muscle control. Our treatment program addresses both of these core problems. Additionally, discs have been shown to be a predominant site of pain, so treating them as directly as possible makes sense.
The blending of focused traction to the site, rehabilitation to the supporting structures and overall strengthening of core muscles makes the treatment unique. Decompression Therapy affects the disc as directly as possible without surgery.
There's a whole world of people out there who have back pain and neck pain who don't need surgery. And those people can benefit from this kind of treatment. However, there are people who need surgery who also can benefit from this kind of treatment. So for me, from my standpoint, as a conservative physician in my treatment, I would recommend trying this before going to surgery. Now, I'm not against surgery. I was a surgeon for 30 years, so I'm certainly not against that. However, if it can be prevented by another means of therapy, I think it's a great idea."
Dr. Galel Gough, MD Former President California Medical Association
Frequently Asked Questions
What is Spinal Decompression Therapy?
Spinal decompression therapy is a non-surgical traction based treatment outcome for herniated or bulging discs in the neck and lower back. Anyone who has back, neck, arm or leg pain may be helped by spinal decompression therapy.
How many spinal decompression sessions will be needed and are they painful?
The number of sessions needed and your specific treatment plan will be determined by the doctor after your examination. In almost all cases, the treatments are completely painless. In fact, some patients fall asleep during the spinal decompression session.
What type of decompression system is used and are the doctors certified in spinal decompression therapy?
After a significant amount of research, the Amato Chiropractic Wellness Center chose the Kennedy decompression system, completed the Kennedy Decompression Technique course work and passed the qualifying examination to achieve the status of "Certified Practitioner" in spinal decompression therapy.
What Makes Spinal Decompression Therapy so Effective?
Doctor skill combined with the table and computerized traction head are the keys. Proper assessment, correct positioning and the use of preprogrammed patterns of distraction and relaxation may reduce disc pressure allowing necessary nutrients to enliven and accelerate disc healing.
Who can benefit from Spinal Decompression Therapy?
Anyone who has back pain or neck pain caused in whole or in part by a damaged disc may be helped by spinal decompression therapy.
These conditions include herniated, protruding or bulging discs, spinal stenosis, sciatica or even failed surgery.
Are there medical studies that document the effectiveness of Spinal Decompression Therapy?
Yes! One study documented by MRI up to 90% reduction of disc herniations in 10 of 14 cases and other studies reported that the majority of herniated disc patients achieved "good" to "excellent" results after spinal decompression therapy.
Are there conditions where Spinal Decompression Therapy is not indicated?
Spinal decompression therapy is not recommended for
pregnant women
, patients who have severe osteoporosis, severe obesity or severe nerve damage. Spinal surgery with instrumentation (screws, metal plates or "cages") is also contraindicated. However, spinal decompression therapy after bone fusion or non-fusion surgery, can be performed.
Will insurance cover the cost of my Spinal Decompression Program?
Yes! Most insurance plans provide coverage for the cost of our spinal decompression program. While reimbursement can vary, your out-of-pocket expense for all needed services could be as little as your co-payment.
If you do not have health insurance, we offer CareCredit that will allow you to make 6 monthly payments with no interest. To apply for financing online and get instant approval in advance, just go to CareCredit.com.
Do most patients receive therapy and rehabilitative exercises in addition to Spinal Decompression Therapy?
To reduce inflammation and assist the healing process, supporting structures are treated with passive therapies (ice/heat/muscle stimulation), chiropractic adjustments (as indicated) and/or active rehabilitation in order to strengthen the spinal musculature.
---
Spinal Decompression Kingsland, St. Marys, Woodbine GA | (912) 882-8888